Carbon Fiber Molds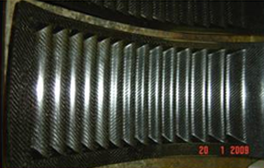 » Carbon fiber molds for long mold life and better efficiency
» Integrally heated, vacuum systems
» Integrated heating / cooling systems.
» Typical Applications- Out of Autoclave, autoclave molding, infused epoxy and carbon/kevlar fiber cured in oven, Wind Turbine Blade molds, etc.

Other Features:
» Molds with scribe lines and with detailed trimming considerations.
» Final machining of composite molds for higher precision (+/- 50 microns)
» High temperature molds – upto 160 °C use.
» Mold inspection reports using laser and/or white/red light scanning vacuum integrity tests.
» Trial and startup support
» TURNKEY programs with patterns, molds, startup and manufacturing support.